Random Thoughts
15 July 2007
So, a little more time brings us a few more random thoughts. At first, there was something of an entertaining theme. Then, I had a head-shaking thought. That was followed by something a little more on the serious side.
Movies I Want to See/Own
I want to see Transformers. I grew up playing with the toys and watching the cartoon. Now, there's a live-action version, with CGI Autobots and Decepticons, of course. Having not seen it, however, and reading a few of the reviews, it seems I'm in for a great time of reminiscence or a huge let down.
I'd also like to see Live Free or Die Hard. I own the first three on DVD. And, I'm kind of a fan of Bruce Willis. From the previews though, there's a lot of unbelievable stuff going on. I smell a MythBusters episode...
Another one on my list is License to Wed. Ya know, maybe I can get some ideas for future marriage counseling sessions. Plus, Robin Williams is funny.
Of course, there's still Ratatouille, too...-e-...
Army Wives
There's a new television series on Lifetime Sunday nights. It's a few weeks in running now (about a month, I guess). Never in my wildest dreams had I thought I would ever praise a Lifetime original program, but this one is simply great. I guess there are many things about what's going on that bring back memories; not that our life on post was filled with so much drama, but the little things going on in the background—the details, I guess—bring me back to the days when I lived as an Army brat and my mother was the Army Wife.
NCAA 08
Tuesday is release day. I don't play as much of the video games these days, but I do like to relax from time to time with a controller in my hand. My game of choice in recent years has been the sports sims, and July is usually always a big time of year for sports sims. I'm looking forward to playing as a defending national champ this year.
One of the things college sports sim fans like me look forward to is downloading named rosters (since the NCAA forbids the sale of merchandise bearing the names and likenesses of its amatuer athletes) from people who devote a lot of time and effort into naming every single player in the game (think about 70 people for 119 teams; see http://www.psxsports.com/)—and it seems XBox 360 owners are going to have issues trying to do so since Microsoft is cracking down on file sharing. Thankfully, I dont' own a 360.
That Arrow's Not for Me
The gall of some people amazes me. The fact that nothing is done about it frustrates me. The Sam's Club/Wal-mart gas station in Sioux Falls has arrows pointing the direction in which traffic is supposed to flow:
As you can (probably) see from this picture, drivers are supposed to pull up to the pumps from the parking lot. When they are done filling their cars, they continue to pull forward and around to two lanes that form the borders of the filling station; they run parallel to the filling lanes, and there are arrows in those lanes pointing out.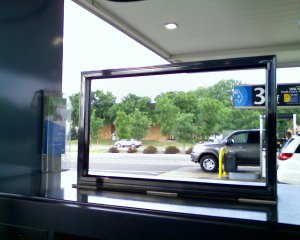 What happens often, as you can see from this picture, is that someone will pull in (usually using an exit lane) and pull up to a pump in the wrong direction. There's always one person doing this every time we fill up there. One of these days I may work up enough nerve to ask them how they feel when they see those arrows are pointing in the opposite direction of which they are going.
Confessional Integrity
There is a lot of theological crap going on right now. As a pastor in the Lutheran Church-Missouri Synod, I have pledged to uphold and defend the Scriptures (the Holy Bible) as the inerrant word of God and the Lutheran Confessions as a right and true exposition of those Scriptures. I didn't simply give lip-service to them; I wholeheartedly believe what I have vowed. As a result, I have set myself up for some opposition, from within and without. However, at the same time, because of my devotion, understanding, and belief in the Scriptures and Confessions, and, most especially, because of God's grace and mercy, I have a great deal of respect and awe for the doctrine of the divine call. Namely, this is God's call, not that of any particular individual or group of individuals—it is God working through a group of individuals. Therefore, it is not for me or them to say, "I quit." Where does this not apply? Should the congregation or the synod-at-large abandon that which they have subscribed to—that which they pledged to uphold and defend—the Scriptures and Lutheran Confessions. What brought on this thought? Voters' meetings and a Synodical Convention...I'm concerned.