Are These Guys Serious...?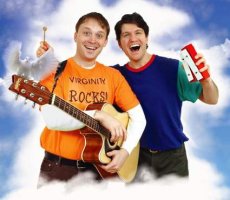 We've gotten into watching Last Comic Standing. There is this duo called God's Pottery whose act is to sing a song about Christianity. The thing is, the morals of their songs aren't all that far off—they are amazingly truthful. All the while, their act is funny.
Now, if you go to their web site, it's difficult to tell if their act is all that: an act. A search of their school, Christ our Leader College, yielded no results, so it would seem they are fake. Still, that doesn't mean that their act is entirely an act, just that their back-story is only a story.
They're kind of like Weird Al Yankovic to LOST AND FOUND.