Ad Te Levavi
Matthew 21:1-9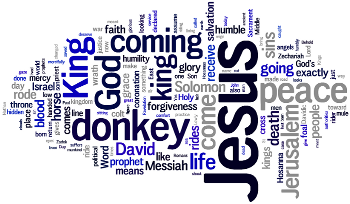 In the name of the Father and of the + Son and of the Holy Spirit. Amen.
The prophet Zechariah declared, "Behold, your King is coming to you, Lowly, and sitting on a donkey, A colt, the foal of a donkey." And so it is, that as He makes His way to Golgotha and the cross, Jesus enters Jerusalem looking like anything but a king. He is atop a donkey, a colt, the foal of a donkey.
Is that any way for a king to make an entrance? Perhaps it is for a king in the line of David. As David neared death, his eldest living son, Adonijah, decided to declare himself king. But David was reminded of his promise to name Solomon his successor. So the elderly king declared,
Call to me Zadok the priest, Nathan the prophet, and Benaiah the son of Jehoiada. Take with you the servants of your lord, and have Solomon my son ride on my own mule, and take him down to Gihon. There let Zadok the priest and Nathan the prophet anoint him king over Israel; and blow the horn, and say, "Long live King Solomon!" Then you shall come up after him, and he shall come and sit on my throne, and he shall be king in my place. For I have appointed him to be ruler over Israel and Judah.

(1 Kings 1:32-35)
The priest and prophet did as the king commanded. Solomon rode to his coronation on a donkey—a mule, the translation says. These words are repeated two more times in 1 Kings, underscoring the importance of the event, not only of Solomon's coronation, but also, as some speculate, Solomon's ride upon a donkey. Though there is no other textual evidence of the practice, they assume that all of the kings in David's line rode to their coronations upon a donkey or mule, as if to connect themselves and their reigns with David and Solomon beyond their blood succession.