Ninth Sunday after Trinity
Luke 16:1-13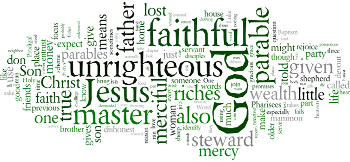 In the name of the Father and of the + Son and of the Holy Spirit. Amen.
To better understand this text, it might be helpful to understand it's place in the grander scheme of St. Luke's Gospel. This is the beginning of chapter 16, which naturally follows chapter 15. Chapter 15 is known, of course, for the three parables it contains: Lost Sheep, Lost Coin, and the so-called Prodigal Son. Jesus told these parables to the Pharisees to demonstrate the love of God and all of heaven for the lost, because the Pharisees scoffed at Jesus for receiving and eating with sinners and tax collectors.
The parable of the Prodigal Son presented Jesus with an opportunity to shift His focus. In that parable, as you know, Jesus told of a young man who essentially told his father to drop dead—he demanded his share of the inheritance, then ran off to a distant country and squandered it in wild living. The older son, faithful to the father, remained home and tended to what was left, and all of that was going to be his upon his father's death. Conditions had grown bad where the younger son was, and he was left with nothing. Hopeless, he devised a scheme tor return home to be a servant in his father's house; when he got home, however, he was never able to follow through with the scheme. His father ran out to him on the road, called out for a robe, sandals, and the family ring to be placed on his son, and called for a fattened calf to be prepared for a feast—his lost son had returned to him, and he was going to have a party, for "there is joy before the angels of God over one sinner who repents."
Something was missing, though. The older son refused to join the party. Like the first time, the father ran out to him and urged him to join the festivities—his brother has returned! And that's how the parables ended. Jesus didn't say whether or not the older brother joined, probably because he wanted the Pharisees—the older brothers—to realize that they, too, could rejoice over repentant sinners and join them in the party to come.